The State of Continuing Education Program in the Ethiopian Higher Education: Quality Perspective
Keywords:
Continuing Education Program, Quality, Management
Abstract
In Ethiopia, Continuing Education Program (CEP) is taken as an alternative modality to provide higher education since a single regular modality alone cannot reach out all the segments of the population. It is intended to realize the citizens demand to pass through the ladder of tertiary education and acquire intended competences at required momentum to navigate the national socio-economic development. Thus, evening and/or weekend, distance and summer programs, collectively referred as CEP, are being widely run in Ethiopian higher education institutions (EHEIs) and contributing to the production of remarkable number of graduates who have been joining the world of work and serving the nation. Despite its significant contribution to the development of qualified manpower, there is public concern on quality of CEP. This has not yet been thoroughly researched. The purpose of this study was thus to look at the status, opening process, delivery methods, management, and factors affecting quality of CEPs. Embedded cross sectional mixed design was employed to conduct the study. Thirteen public and private universities and university colleges were involved using random and purposive sampling methods. Primary and secondary data sources were employed and key informant interview, focus group discussion, survey questionnaire and observation checklist were used as data collection tools. The results of the analysis showed the quality of CEPs is constrained by several factors among which are opening of programs without rigorous needs assessments, absence of basic resources, underutilization of available resources, under-qualification of staff who are mostly part timers, weak link between learning and practical work, poor implementation of continuous assessment, and absence of uniform implementation of nationally harmonized modular curricula. Management of CEPs is poor and this is manifested by weak exam administration and unfair grading, leadership by individuals alien to education, weak admission criteria, poor time management, low rate of students' class and tutorial attendance, poor supervision from MoE and HERQA, and little attention from university leaders and university quality assurance office. It was also found out that negative attitude of students, the society and university community towards CEP, poor academic background of students, little commitment from students and teachers, inconsistent guidelines on the procedure of CEP, shortage of time and poor student services and supply of facilities were the major factors affecting the quality of CEP in EHIs. The conclusion drawn from the study is that CEP is poorly managed and factors that affect the quality of the program are multi-dimensional ranging from inception to implementation. If higher institutions are to provide quality education, the management of CEP has to be strengthened; factors negatively affecting the program need to be taken care of; policy and guidelines need to be properly implemented; national CEP policy has to be initiated; and every stakeholder should play its role so as to improve the quality of CEPs.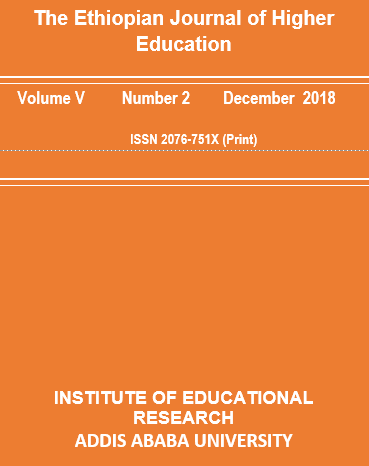 Downloads