Comparison of Nutritional Values of Cookies Produced from Enset Bulla Fortied with Soybean Flour
Keywords:
Bakery product, Cookies, Enset, Fortification, Organoleptic Properties
Abstract
Cookies are baked products liked by all age groups; containing flour, sugar, and fat and the one
which blended with SBF. This study aimed to prepare cookies from bulla that is mixed with wheat
flour fortified with SBF at a proportion of flours for making cookies 0%, 10% 15%, and 30. The
proximate, functional, microbial, and sensory attributes of bulla-soybean cookies' baking potential
were studied using standard analytical methods. Soybean flour (SBF) was produced and used to
substitute bulla flour at different substitutional levels viz 70:20:10, 60:20:20, 50:20:30 with
80:20:0 %, bulla: wheat: soybean flour as control. Nutritional analysis of cookies revealed that
there are significant differences in their physicochemical properties such as moisture, fat, protein
ash, carbohydrate, and fiber contents, which were higher by 30%. However, small differences
were observed between cookies produced from all bulla in terms of minerals. Whereas the
organoleptic attributes of cookies were deferred significantly (p ≤ 0.05). However, microbial
analysis was evaluated every 30 days up to 210 days and checked the suitability of the best cookies
and the total plate count of cookies samples was under acceptable limits. Studied results showed
that produced cookies had high amounts of protein in 30 and 20 % fortified cookies. This study
might use to promote bulla for their food and nutrition security, the use of fortified cookies, and
develop nutritious-based new products and income-generating potential in Ethiopia more
emphasis should be given.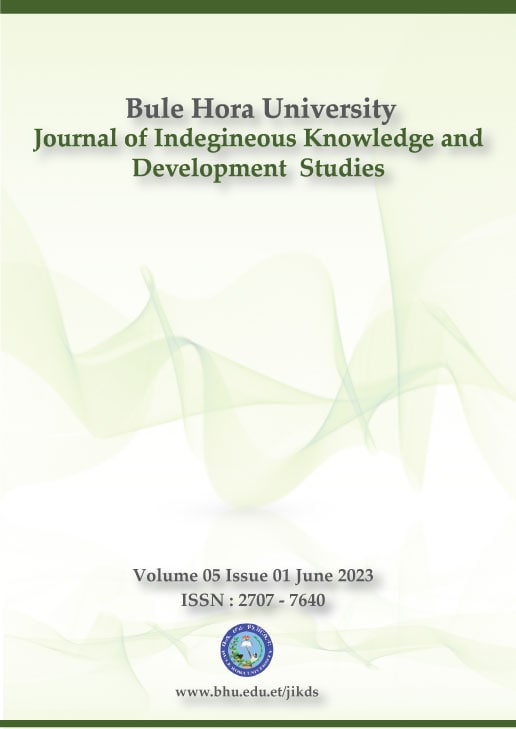 Downloads
License
Copyright (c) 2023 Bule Hora University
This work is licensed under a Creative Commons Attribution-NonCommercial 4.0 International License.