Opportunities Available and Challenges Faced by Students with Disabilities in Public Universities in Addis Ababa
Keywords:
Students with disability, public universities, challenges, opportunities, support, Addis Ababa.
Abstract
This study aimed at assessing opportunities available and challenges faced by students with disabilities (SWDs) in public universities in Addis Ababa. To address the objectives of the study, mixed research approach combining both quantitative and qualitative techniques was used. The data was collected through questionnaires, semi-structured interview, focus group discussions (FGDs) and observation. The quantitative data were analysed through descriptive and inferential statistical techniques while the qualitative data was analysed by using the thematic analysis technique. The findings of this study have indicated that availability of reasonable accommodation services, recognition for best scorers, training & induction programs, establishment of special computer centres, provision of educational materials and assistive devices are the opportunities that SWDs have in each respective university. Conversely, inaccessible infrastructures, absence and/or competency problem of sign language interpreters, weak disability affairs offices, unavailability of effective guidance and counselling service, lack of different entertainment means, difficulty of getting personal assistants and different means of communication on academic/non-academic matters are identified as hindrances to their success. The finding of the study also reveals that most lecturers have negative attitudes toward SWDs. The regression result confirms that accessibility of infrastructures, high school GPA, monthly expenditure of students, occupation of parents, disability type and mother's education are significantly affecting the academic performance of students with disabilities. Therefore, the public universities & other stakeholders should prepare manual and guidelines that show step-by-step processes that need to be taken to address issues of SWDs. Awareness creation schemes need to be carried out to change the negative attitudes and mainstream the issues of SWDs in all endeavours of the respective universities.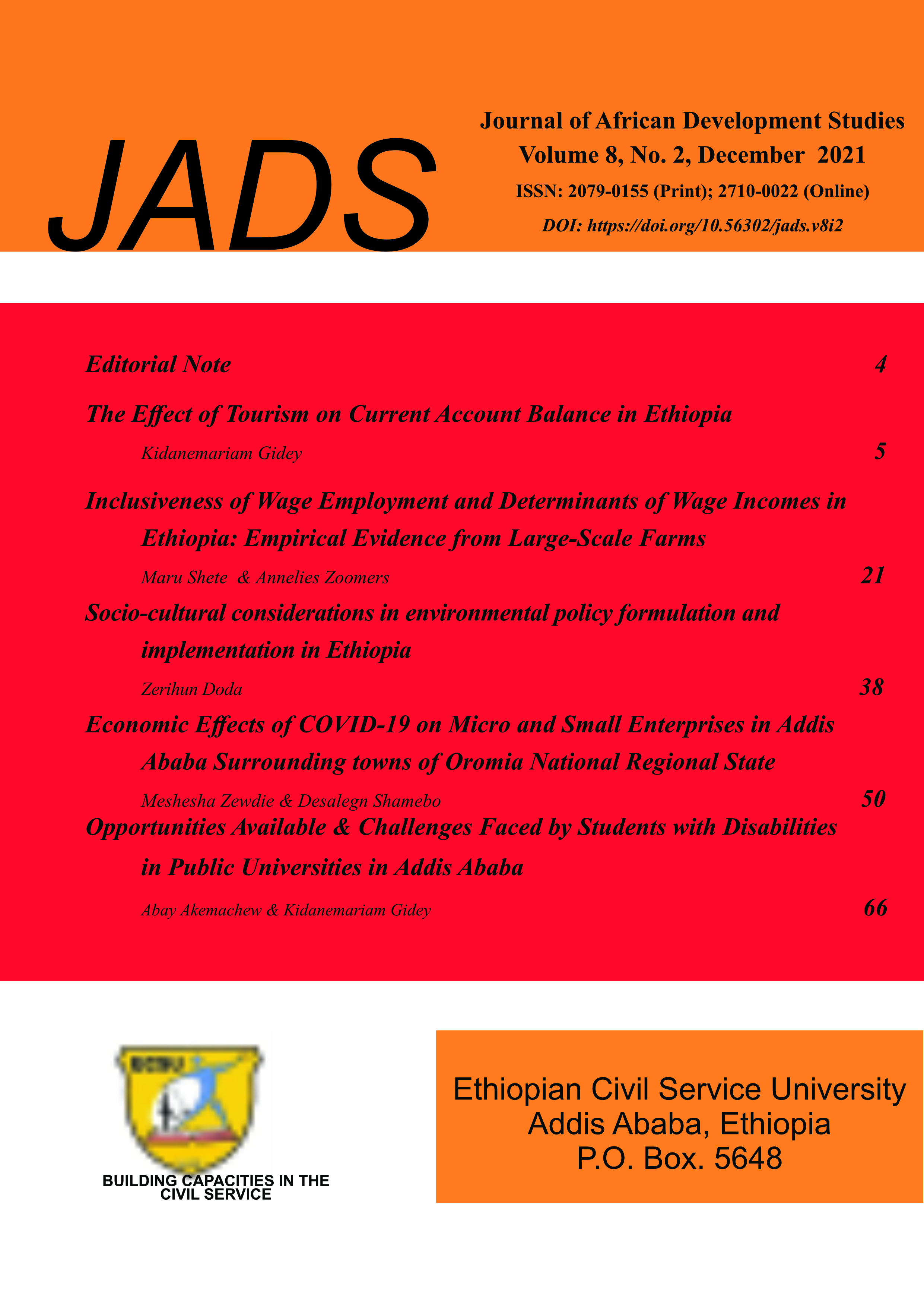 Downloads
How to Cite
Akemachew, A., & Gidey, K. (2021). Opportunities Available and Challenges Faced by Students with Disabilities in Public Universities in Addis Ababa. Journal of African Development Studies, 8(2), 66–85. https://doi.org/10.56302/jads.v8i2.3263
License
Copyright (c) 2021 Journal of African Development Studies
This work is licensed under a Creative Commons Attribution-NonCommercial-ShareAlike 4.0 International License.